July 06, 2022

|
WordPress User Roles and their works
The user WordPress creates after installation is Admin User Type. Admin user has all the access of a website. He can do anything he wants. Like theme, plugin management, post-publishing, controlling other users etc. Let's check all the user types of a WordPress website.
WordPress user type
Basically, there are five types of user role available on a WordPress site.
Check this Screenshot. Log in to your WordPress dashboard and go to Users>>Add New section. After clicking add new you will see a page like this.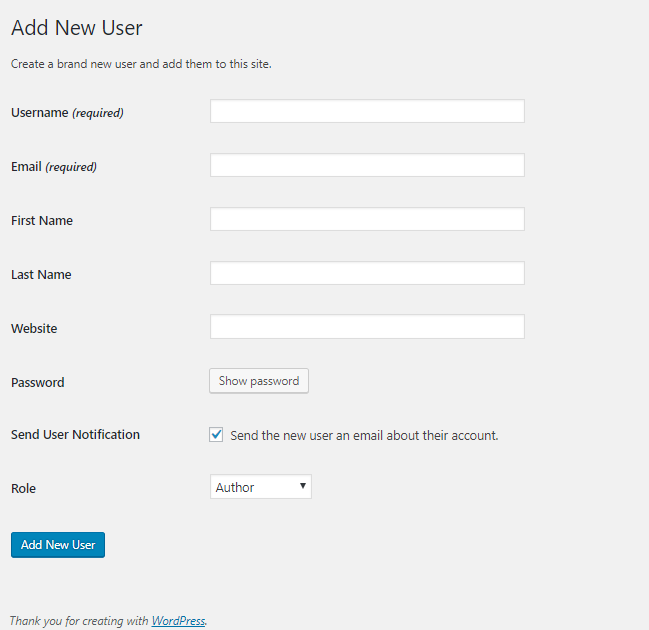 In the Role section, you will find these options.
1. Subscriber.
2. Contributor.
3. Author.
4. Editor
5. Administrator.
Now let's check the works of these roles.
Subscriber:
This user actually cants do anything on your website. They get only the members of your website by registration. They can't post any content. If you want the user to register on your website for comments, you can use this role.
This user only can comment.
They can only update their profiles.
Contributor:
Users with Contributor user type can post on your website. But their post will not publish automatically.
They can comment
Update their profiles
Can post. But it will not publish automatically. It will be pending for moderation. They can edit or delete their post while it is pending. But can't edit or delete once it's published.
Can see comments on own and others post.
Author:
An Author can post and it will publish directly on the website. Generally, blogs use this user role.
Can edit or delete their post anytime.
Can see comments on others post and can delete, edit or unapproved comments on own post.
Editor:
They mainly do the job of Moderation.
They can moderate others post, medias, publish the pending posts from contributors and edit or delete them.
Can create pages or edit, delete other pages.
Can create new categories and edit the existing ones.
Administrator:
An Administrator can do everything on a WordPress site. Editing or changing the theme, adding plugins, maintaining them, Controlling Widgets, Menus and creating new user role etc.