June 16, 2022

|
Types of cPanel and Features of cPanel
There are basically 2 types of panel with cPanel, WHM and cPanel. WHM is root panel from where we can manage everything, everything shared hosting and can manage server security tweaks. From the WHM panel we will be able to create cPanel for shared hosting. As a reseller needs to manage their shared hosting accounts, resellers also will get WHM, which will be created from root WHM and will less features. From Root WHM we can manage everything, but from reseller WHM panel resellers will be able to manage which will allow the root WHM. Root WHM can control the power of reseller WHM.
So basically, we see 3 types of control panel.
They are:
1. Root Admin Panel (WHM)
2. Reseller Panel (WHM)
3. Shared Hosting Panel (cPanel)
Root Admin Panel (WHM)
Root Admin Panel is your servers admin panel which works as the main source. It stores information of how many cPanel is on the server, server configuration, and information. It's out of the hand for a normal user.
Reseller Panel (Reseller WHM)
If you will purchase reseller hosting from hosting provider you will get reseller hosting panel (reseller WHM), which is very similar to main WHM, but you will not get all the features like root. You will be able to create cPanel accounts, terminate cPanel accounts, change the hosting packages etc.
Shared Hosting Panel (Only cPanel)
It's usually designed for normal users or for shared hosting. From where you will be able to manage your websites' files, configure websites' security, emails, database etc.
Live Analysis
Now we will work with a live cPanel. If you don't have any cPanel you can use it. Log in to this link.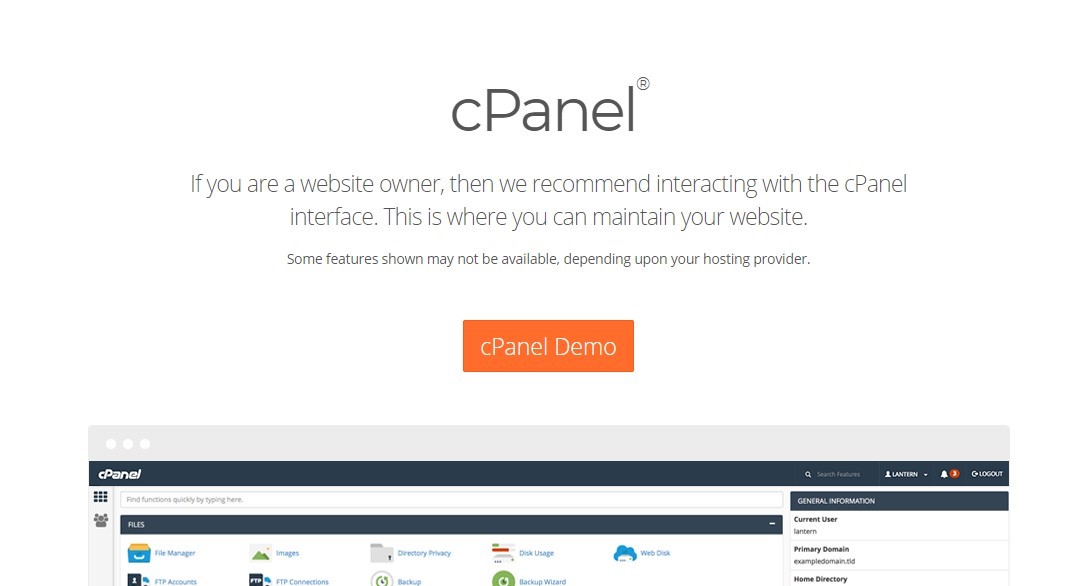 Sections of cPanel
After login into cPanel, you will see some section. To maintain a cPanel you need this sections. All are separated from their work. We will discuss all of them in details. So let's check the sections in a quick view.
The cPanel Home Screen
In the top, you will see your providers brand if they added it.

Files
In this file section, you can control your website files. Creating, uploading or deleting can be done here. Also, you will find backup options and tools here.
Database
Another important part of cPanel. Creating and managing database can be done here. If you want to check any data from the database you can check it from here.
Domains
You can control your domains from here. Adding addon domains, creating a subdomain or redirection features will be found here.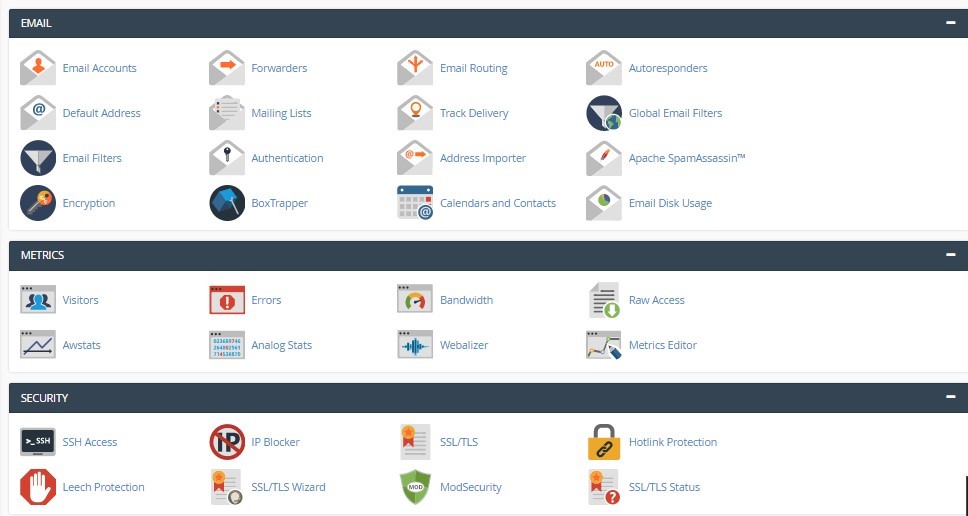 Email
You can create new webmail id for your business from here. There are some features also available in this section.
Metrics
You can see your site states, bandwidth and other important stats and option from this section.
Security
You can make hotlink protection and take security steps from this section.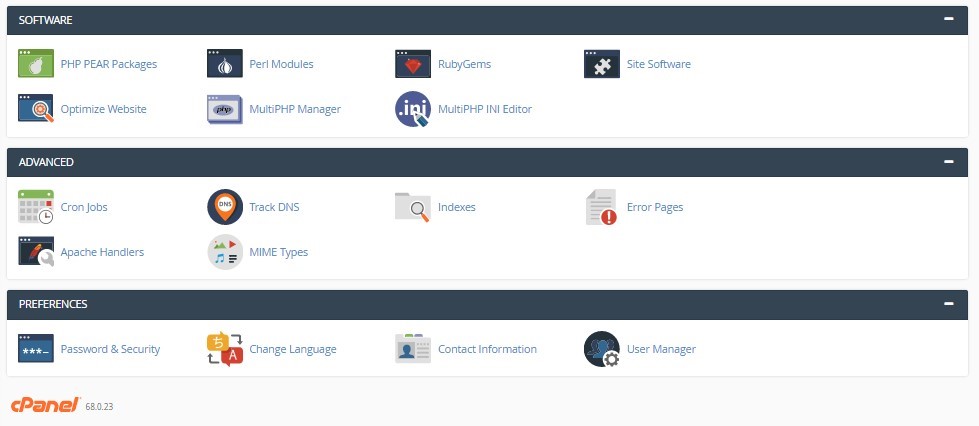 Software
Optimizing website speed and other important things can be found here.
Advance
You can handle your apache from here and build your error pages as you want
Preference
In this section, you will get options for your cPanel. In simple language, customizing your cPanel or your provider's connections can be found here.